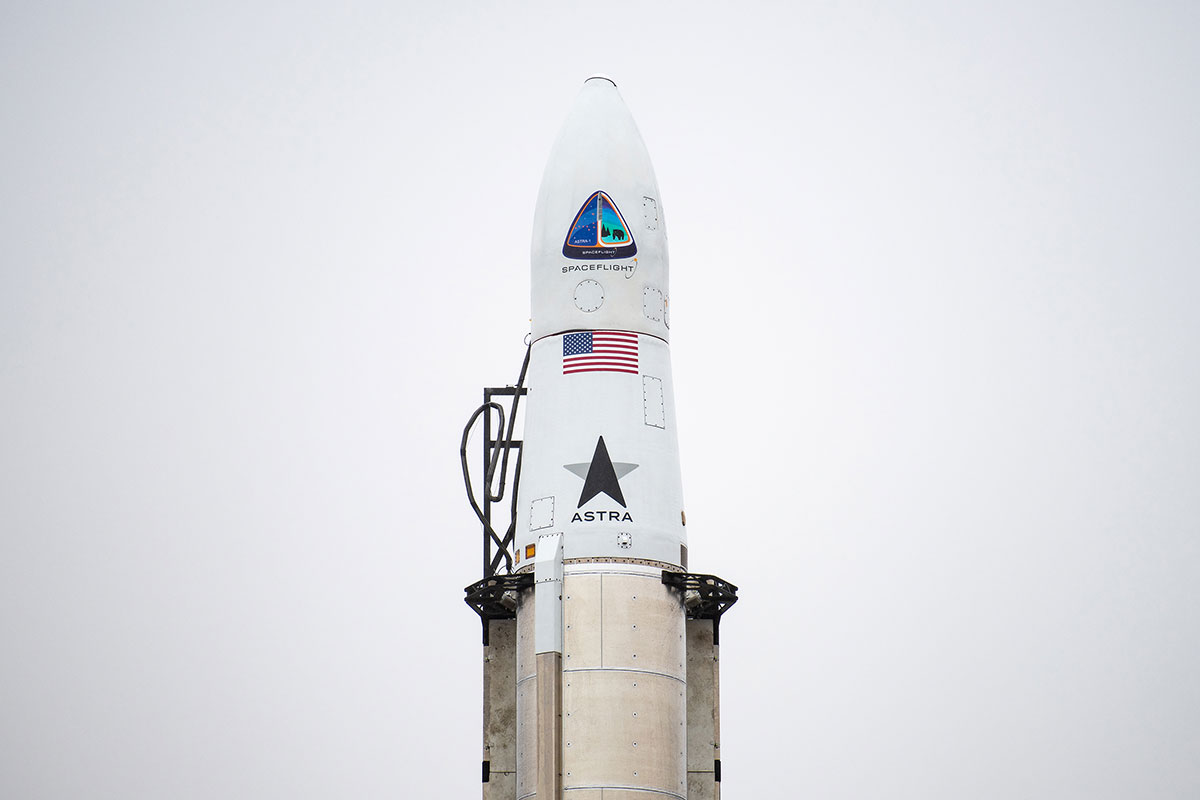 Download the Spaceflight Astra-1 press PDF here
Images for media use (credit: Brady Kenniston / Astra)
—
Launch Window
March 14-15, 2022
09:22am-09:51am PDT / 12:22pm-12:51pm ET / 16:22-16:51 UTC
Live stream begins at T-45 minutes or 8:37am PDT / 11:37am EDT / 15:37 UTC and can be viewed at astra.com/livestream.
Launch Site
Pad LP-3B
Pacific Spaceport Complex
Kodiak, Alaska
Target Orbit
Orbital inclination: 97.5 degrees
Altitude: 525 kilometers
Payload
This mission includes a payload for NearSpace Launch, the S4 CROSSOVER, and Portland State Aerospace Society's OreSat0.
Mission Overview and Objective
Astra's objective is to successfully launch and deploy spacecraft for Spaceflight's customers, including Portland State Aerospace Society and NearSpace Launch, to Sun Synchronous orbit, 525 km. You can read more at astra.com/newsroom.
Mission Timeline
(all times are approximate)
| | |
| --- | --- |
| +0s | Lift-off |
| +6s | Begin Pitch Over |
| +1min 10s | Max-Q |
| +3min 00s | Main Engine Cut-off (MECO) |
| +3min 05s | Fairing separation |
| +3min 10s | Stage separation |
| +3min 15s | Upper Stage ignition |
| +8min 40s | Second Engine Cut-Off (SECO) |
| +8min 50s | Payload Deployment |
About Launch Vehicle 0009, Rocket 3.3
Astra has developed the world's most responsive and affordable orbital launch system. Rocket 3.3 is an expendable, vertically-launched two stage LOX/kerosene rocket, designed to fit inside a standard shipping container and built to dramatically lower the cost of access to space. Eschewing labor-intensive processes such as carbon composite layups, Astra has focused on proven and cost-efficient metallic structures.
Rocket 3.3 consists of a first stage powered by five electric-pump-fed engines and an upper stage propelled by a single pressure-fed upper stage engine.
 

 

First Stage
Upper Stage
Engine Qty
5
1
Thrust per Engine
6,500 lbf SL
740 lbf vacuum
Total Thrust
32,500 lbf SL
740 lbf vacuum
Propellant
LOX / Kerosene
LOX / Kerosene
Overall Length
43 feet
Diameter
52 inches