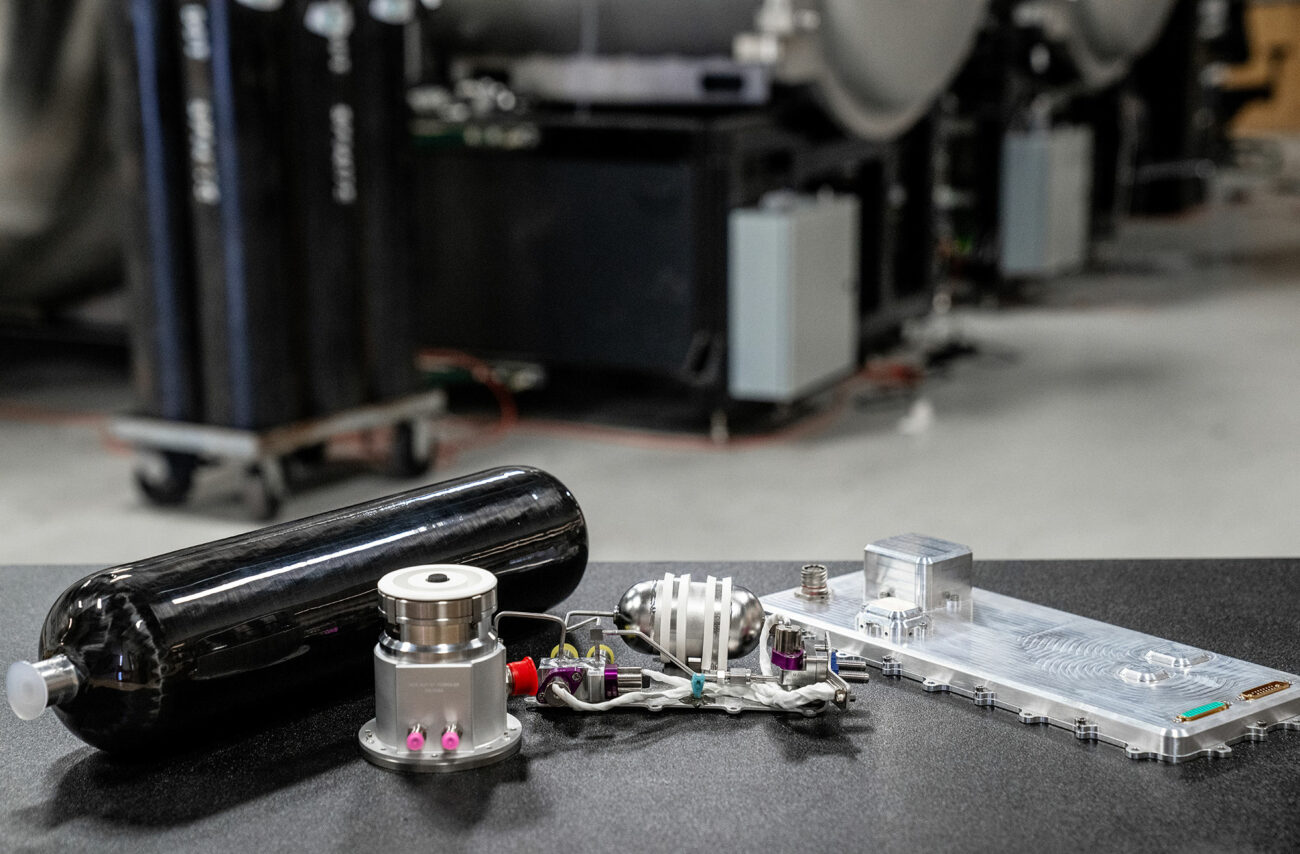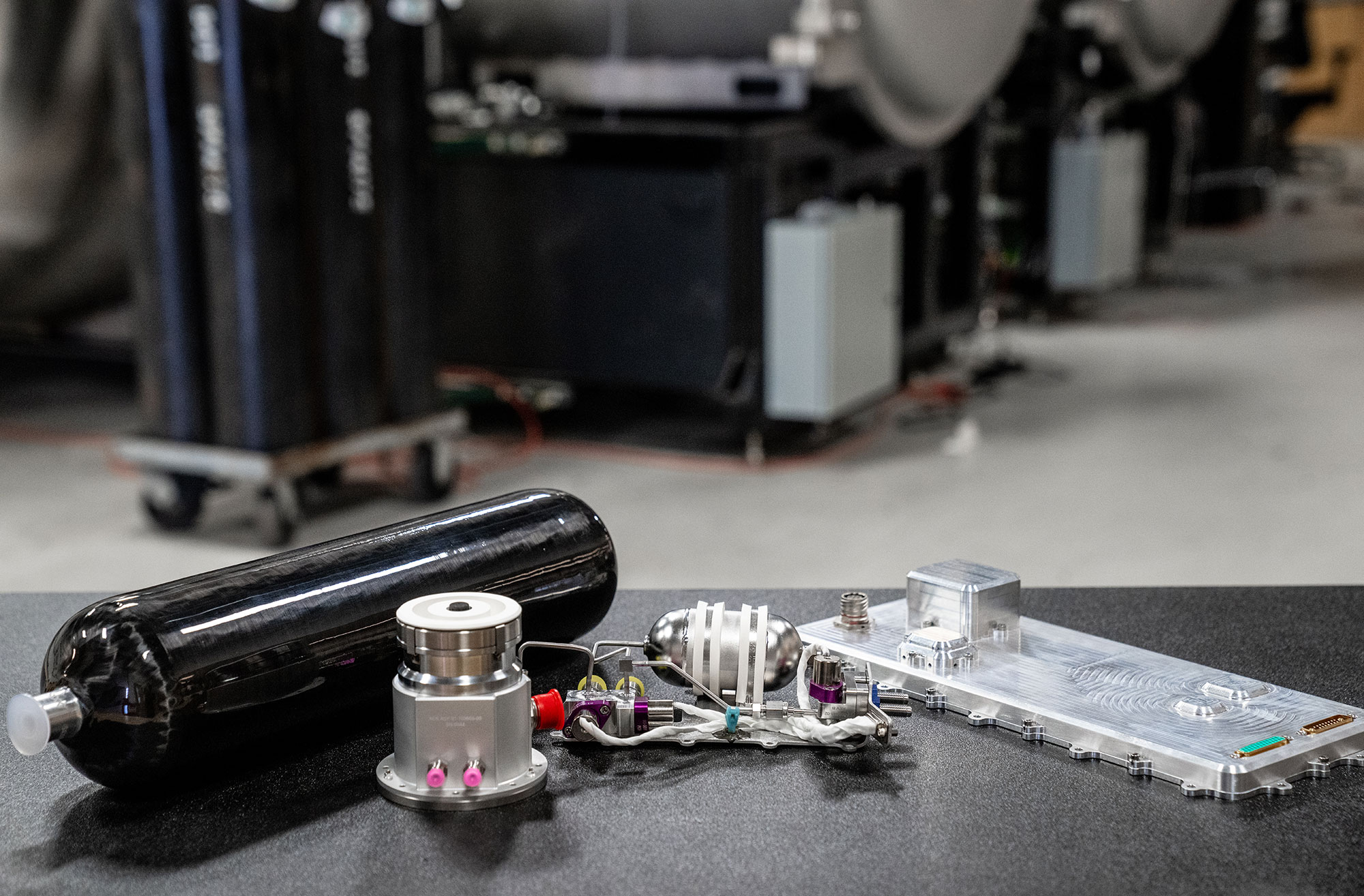 Astra Spacecraft Engines baselined on Apex Satellite Buses
ALAMEDA, CA – April 27, 2023. Astra Space, Inc. ("Astra") (Nasdaq: ASTR) and Apex Technology, Inc. ("Apex") today announced a contract for Astra to initially provide 5 Spacecraft Propulsion Kits for Apex's satellite bus platform. Astra is expected to begin delivering the Spacecraft Propulsion Kits in 2023.
The Spacecraft Propulsion Kit disaggregates the four subsystems of the Astra Spacecraft Engine™ module: (1) thruster, (2) power processing unit, (3) feed system, and (4) tank. This disaggregation enables satellite builders to take advantage of shorter lead times to access key components of their propulsion system that they can customize for their unique missions. Astra is adopting the way development kits have transformed the software industry and applying it to hardware by providing the tools and support to accelerate spacecraft development at scale.
Apex's satellite buses are configured by customers to meet specific mission needs. Apex's 100 kg bus model, Aries, will use the Astra Spacecraft Engine™ to support its electric propulsion package. Apex customers are able receive their spacecraft in a matter of months thanks to Apex's design-for-manufacturing approach, interoperable software, and product-first mentality.
"The Astra Spacecraft Engine has the flight heritage and the performance we need to deliver our satellite platforms to customers on schedule." said Max Benassi, Chief Technology Officer of Apex. "As Apex scales production, we look forward to continuing to work with suppliers like Astra who can meet our production ramp rates."
"Astra and Apex share the common value of producing space products at scale," said Margo de Naray, General Manager of Astra Spacecraft Engines™ at Astra. "Astra's Spacecraft Propulsion Kits are expected to allow customers like Apex to shorten lead times to deliver on customer programs."
—
About Astra Space, Inc.
Astra's mission is to improve life on Earth from space by creating a healthier and more connected planet. Today, Astra offers one of the lowest cost-per-launch dedicated orbital launch services of any operational launch provider in the world, and one of the industry's first flight-proven electric propulsion systems for satellites, Astra Spacecraft Engine™. Astra delivered its first commercial launch to low Earth orbit in 2021, making it the fastest company in history to reach this milestone, just five years after it was founded in 2016. Astra (NASDAQ: ASTR) was the first space launch company to be publicly traded on Nasdaq. Visit astra.com to learn more about Astra.
About Apex Space, Inc.
Apex solves the largest bottleneck in the space industry with the fastest delivery of transparently priced and reliable satellite buses. Apex's productized, configurable bus platforms are delivered in months and enable the industry to keep up with the accelerating demand for small spacecraft. The first production run of the Aries satellite bus, Apex's flagship model, is underway for multiple customers, with six spacecraft being delivered by the end of 2024.
Safe Harbor Statement
Certain statements made in this press release are "forward-looking statements". Forward-looking statements may be identified by the use of words such as "anticipate", "believe", "expect", "estimate", "plan", "outlook", and "project" and other similar expressions that predict or indicate future events or trends or that are not statements of historical matters. These forward-looking statements reflect the current analysis of existing information and are subject to various risks and uncertainties. As a result, caution must be exercised in relying on forward-looking statements. The following factors, among others, could cause actual results to differ materially from those described in these forward-looking statements: (i) our failure to meet projected development and delivery targets, including as a result of the decisions of governmental authorities or other third parties not within our control; (ii) changes in applicable laws or regulations; (iii) the ability of the Astra to meet its financial and strategic goals, due to, among other things, competition; (iv) the ability of Astra to pursue a growth strategy and manage growth profitability; (v) the possibility that Astra may be adversely affected by other economic, business, and/or competitive factors; (vi) the effect of the COVID-19 pandemic on Astra and (vii) other risks and uncertainties described discussed from time to time in other reports and other public filings with the Securities and Exchange Commission, including our registration statements and quarterly reports.
Astra Media Contact:
Katie Clark
[email protected]
Astra Investor Contact:
Andrew Hsiung
[email protected]
Apex Media Contact:
[email protected]